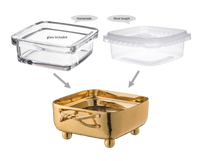 Versatility with Decorizer Square
The Decorizer Square is designed to serve square deli containers from your local deli. But it also includes a glass to always be able to anjoy the Decorizer convenience and beauty.
Shop Square
Contact Us!
We are just an email away!
For wholesale accounts please contact us.
sales@thedecorizer.com
FAMILY OWNED SMALL BUISNESS SINCE 2015